Does your patient suffer from Osteoarthritis of the Knee or chronic low back pain?
Living with chronic knee and/or back pain can be hard. Simple activities become difficult. Before recommending surgery or injections, some patients may benefit from a conservative approach like Apos®.
HealthCare Partners has teamed up with Apos® to offer their innovative program to our members suffering from chronic knee and back pain.  On a monthly basis, HealthCare Partners provides Apos® a list of patients based on claims data (appropriate dx codes, injections, etc.) who may be good candidates for Apos®.  The Apos® team reaches out to patients and screens them for suitability and offers them an evaluation as described below in the patient experience.
What is Apos®
Apos® is an FDA-cleared medical device that is clinically proven to reduce knee pain. And the best part is that you wear it for about an hour a day at home while going about your normal routine. It is also a non-FDA-cleared wellness device that can improve the quality of life in patients with other gait-related conditions such as chronic low back and hip pain.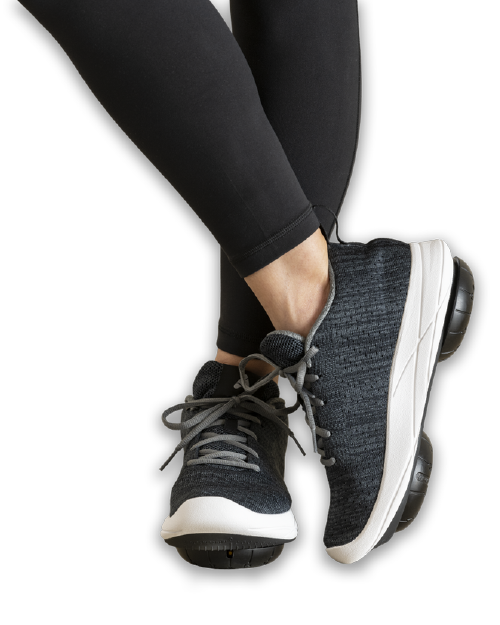 How Apos® is Different
Apos® works on biomechanical and neuromuscular levels. Using a patented, foot-worn device as part of a daily treatment program, Apos® is designed to address the underlying causes of pain by temporarily shifting pressure from affected areas.
The neuromuscular re-education of the muscles results in a healthier walking pattern, even when not actively wearing the device.

The patient experience – Apos® at Home
Apos® evaluations are scheduled in the comfort of the patient's home.
A licensed physical therapist who is trained on Apos® joins via telehealth to custom-calibrate the device, create the treatment plan and review safety instructions. An Apos® Product Specialist is deployed to the home to assist with the appointment.
The use of the device is integrated into the patient's normal daily routine. For example, during mealtimes, working at a desk, etc. so it is as convenient as possible. Most patients start with 10-15 minutes of weight-bearing time (standing and walking) in the device within their home. Patients build up to approximately an hour of indoor weight-bearing time.
Up to 5 telehealth follow-up visits will be conducted over the next 6-9 months. After the initial 6-9 months have passed, most patients have achieved the desired clinical effect and will have achieved their goals.
AposHealth Delivers Proven Results
A 2020 study published in the Journal of American Medical Association (JAMA) showed that patients with knee osteoarthritis who used AposHealth experienced a 70% reduction in pain and a 60% improvement in function.
93% of patients did not progress to knee surgery within the first year of AposHealth treatment
58% reduction in over-the-counter pain medication usage and a 16% reduction in opioid usage due to improvements in pain
98% who used AposHealth said they would recommend it to friends and family
Over 100,000 people have used AposHealth worldwide
Before and After with Real AposHealth Patients
See the difference AposHealth can make long-term – and even just a few minutes later!
Want to learn more about Apos®?
Contact Nina Cha, their Clinical Director and DPT at NinaC@aposhealth.com.
ONLY applies to members with EmblemHealth insurance.