Known as the "silent killer," high blood pressure, or hypertension, increases the risk of heart disease and stroke, which are the leading causes of death in the United States.*
Nearly half of adults in the United States, or about 108 million people (45%), have high blood pressure, but only about 1 in 4 adults (24%) with hypertension have their condition under control (CDC, 2019). Controlling high blood pressure is an important step in preventing heart attacks, stroke, and kidney disease, and in reducing the risk of developing other serious conditions. Health care providers and plans can help individuals manage their high blood pressure by prescribing medications and encouraging low-sodium diets, increased physical activity, and smoking cessation.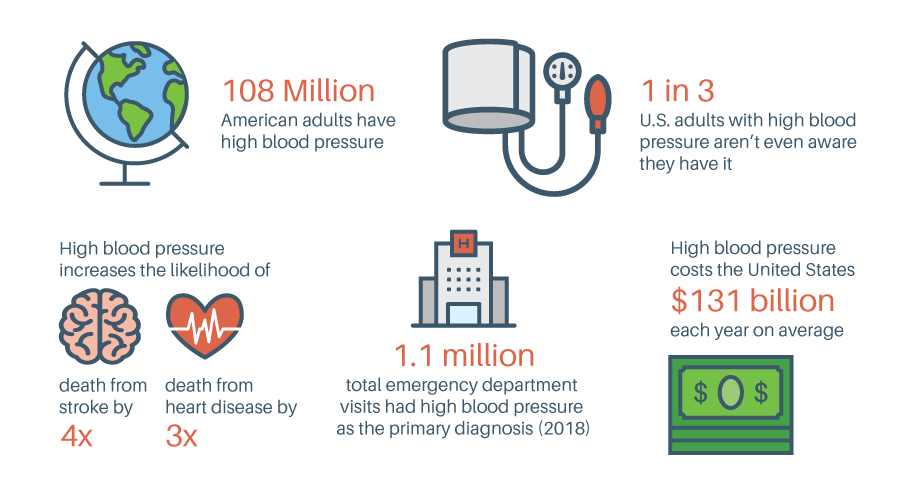 Provider Tips
*Centers for Disease Control and Prevention (CDC)
Remind patients with hypertension about the importance of taking prescribed medication. Ask your patient if they are taking medications as prescribed. (If they aren't, document this.)
Encourage your patients to keep a frequent record of their blood pressure, taking it at approximately the same time every day and using the same arm. If the patient does not own a blood pressure cuff, many pharmacies can take their blood pressure.
If the patient owns a blood pressure cuff, encourage them to bring the cuff with them at least yearly so that you can check its accuracy.
Before taking a patient's blood pressure, have the patient sit quietly with back supported, feet on floor, arm at heart level.
Always record the blood pressure using the same arm. Record which arm is used and the size of the cuff. Use the correct cuff to fit the patient's arm.
Take it twice. If the patient has a high blood pressure reading at the beginning of the visit, retake and record it at the end of the visit.
Document the results of any screenings. Get credit for the work you've done! Pre-collection of this patient information is a valuable tool that meets the needs of your patient, while also satisfying HEDIS® measures.